Blue Hill's Amazin' Blaze O' Mijoy ROM "Amazin"
Here is our second foundation dog. We acquired this dog from a good friend, Kandy Jones, who founded the American Shih Tzu Club Website when the internet was just up and coming. Kandy died tragically at a young age from some type of fever after she had combated and won cancer. When no one else would help me and encourage me Kandy was always there. I will remember fondly her taping dogs outside of her house for me to see. I finished several dogs for Kandy of the Mijoy kennel prefix. There is a top kennel "Blue Hill" this is not of her dogs. This dog goes back to Louwan's Rebel Rouser and again some Munchkintown stock. Amazin excelled in movement and head carriage which he passed down to his children!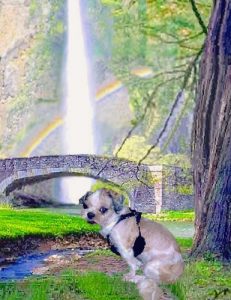 Though Amazing was never any great show dog. Nor was he all that pretty, he gave Falling Star the movement that we have so instictively bred into each of our dogs. This is the only picture we have of Amazing. It was taken just several hours before he passed away in his walking harness. Thanks to our good friend Sheba, she put this picture on a rainbow background to show that he is going home. We will always be indebted to this sweet, loving boy. He had such a great temperment and lovely disposition. One of his favorite things to do was sleep. Thanks Amazing for filling our life with so much joy!